2542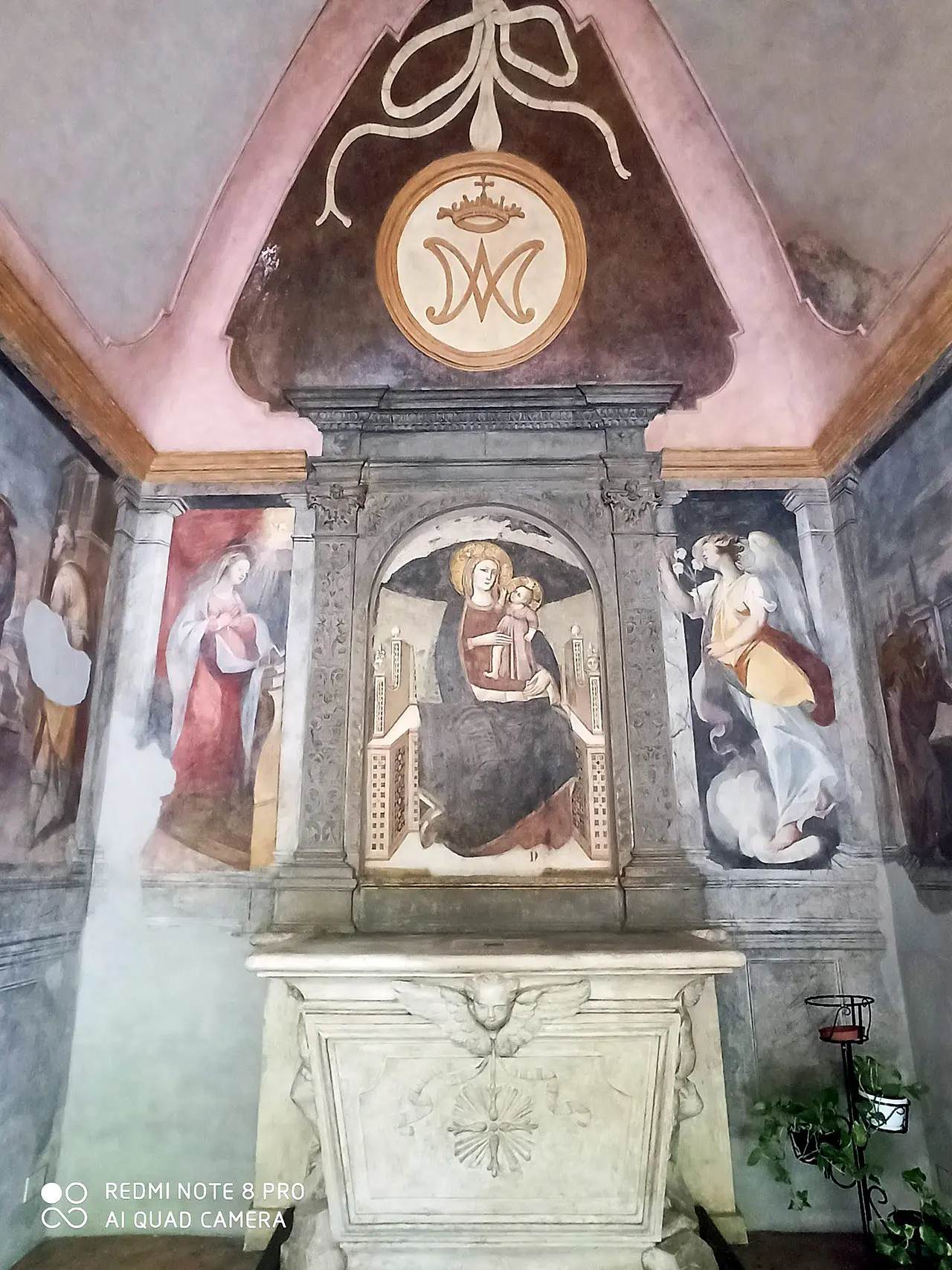 Oratory of Our Lady of Mount Carmel
As small as it is dear to its faithful
Automatically translated page.
What it is and where it is
Built at the gates of the town, on the road leading to the northern borders of the former Duchy of Urbino and then beyond to Tuscany and Umbria, it began as a simple shrine "extra muros" that in 1478 was called the "Majestà de porta de sopra." At the end of the 15th century it was transformed into a small chapel with an altar and has been one of the most frequented places by the faithful ever since.
Why it is special
The interior is devoid of windows, except for the rose window above the entrance which is the only source of light, and when you enter - for a moment - it looks like a bare, unadorned room. As soon as the eye gets used to it, however, there appear on the walls a series of images that tell us the story of the Virgin, and on the altar a treasure from the 1300s, witness to a time when Rimini artists were active in our area.
Not to be missed
The central fresco depicts the Madonna Enthroned with Child and is the work of Giuliano da Rimini. It is one of the few 14th-century artistic testimonies in Urbania and we can only admire it thanks to the citizens who saved it from certain destruction. In fact, it was originally inside the Brancaleoni fortress, which was dismantled in 1517 by Lorenzino de' Medici. It was then that the fresco was hidden and later relocated to the oratory. The images in the little chapel are easy to read because they were aimed at a mostly illiterate audience, and perhaps it is also this simplicity of them that makes them so fascinating.
A bit of history
In 1610 the Confraternity of Carmine was founded, which mainly cared for the souls in Purgatory so, from this time, the church was renamed Our Lady of Carmine. Between the 1500s and early 1600s several works were done in the inner hall, which were paid for with the contribution of the faithful who pledged their own property. The latest restoration work dates back to 2011 and, as in the past, was made possible also thanks to donations from many urbanites and brought to light, on the ceiling, some scenes from the Vision of Paradise.
Trivia
No masses are celebrated in this church except on July 16, a day consecrated to Our Lady of Mount Carmel, and it is also the only day when the fresco on the altar is covered by a canvas with a circular opening at the height of the faces of the Virgin and Child. The canvas is the work of Giovan Francesco Guerrieri (17th century) and depicts the souls in Purgatory asking for Our Lady's intercession.
To make travel arrangements
Collections
Discover places and related research
The Map thanks:
Collections
Discover places and related research